In a 2021 study, Dockwa surveyed more than 100 marinas and found that an astounding 45% of them had been approached in the last year to sell their marina. There is definitely a sea-change happening in the marine industry. Deciding to sell your marina is a personal and complex decision, one that you should not be rushed into or head into underprepared. Whether you are considering selling your marina this year or just weighing options for the future, we want to make sure you're on even footing with your prospective buyers. The following is a guide for how to prepare for the potential sale of your property.
Too often, marinas let the buyers define the value of their property without doing enough research into its true potential earnings. This bases the price-tag on the sale prices of other marinas (which may be wildly different in true value) or, worse, on the buyer's budget. A marina's value should take into account:
Current property assets (e.g., restaurant, service docks, onshore parking)
Unique traits of the property (e.g., The only fuel dock in the region)
Current annual revenue
Potential revenue
Comparable marina deals on the market

It may be easy to get to 1-3 in the above list, for potential revenue and comparable marinas however, you'll need to do a little paper work.
To understand your potential revenue and how you compare to others, you need to pull together a set of benchmarks for your marina so you can make apples-to-apples comparisons and quantify future earning potential.
You'll need to measure, Occupancy Rate, Average Daily Rate, and something called Revenue per Linear Foot (RevPLF). The combination of these will enable you to show how your property's revenue could grow over time.

You can get a simple equation to make these calculations by downloading this Marina Benchmark Worksheet Template or you can get free help by clicking the "Talk to an Expert" red button at the bottom of this post.
Defining a Marina Comp-Set
Don't let your buyer make unfair comparisons between your marina and a nearby one or another one in their portfolio. Comp-sets for marinas should be carefully selected to create a reliable comparison. A perfect comp-set does not exist, but a strong comp set should include 3 to 5 marinas with the a subset of the following similar characteristics:
If you're dealing with a local buyer, you will likely look for comparable marinas in your region, but if you're dealing with an institutional marina, your comp-set can broaden out to include similar properties nation-wide. We'll get to the differences between institutional and individual investors in a moment.
Once you have your comp-set, you'll want to do what you can to ascertain similar benchmarks for those marinas as the ones you defined above. Marinas.com is going to be coming out with the industries first benchmark report in summer 2021, so stay tuned for that. Before then, you may want to reach out to your peer marinas and ask if they'd be willing to share some benchmarks in exchange for your own. You're looking for anomalies in things like your Average Daily Rates, Occupancy or RevPLF. For example, if your occupancy is above your peers, but your average daily rate is below, there's likely hidden value there.
Institutional Investors vs. Individual Buyers
"Who you sell to" is as personal a choice as "why you sell". We're not going to make a recommendation for one over the other, but what we can tell you is how the process for selling to an institutional investor may vary from a local buyer. The major way an institutional buyer varies from a local buyer is that they have a much broader range of data from which to understand and evaluate a marina. The following table is an oversimplification, but it will give you a way to think about each:
| | |
| --- | --- |
| Local Buyer | Institutional investor |
| May buy because of a personal attachment | Always buys to see a return on their investment |
| Relies on your data or a broker's data | Relies on a portfolio of benchmarks |
| Evaluates on current performance | Evaluates on future potential |
Key Steps and Timing
1-3 years before selling:
Unless you have an emergency driving your need to sell, you'll want to begin laying the groundwork for a sale about 1-3 years out. This is because a buyer is going to look at your last few years of performance in evaluating your value.
Start using marina management software: I know what you're thinking, we're Dockwa, a boater relationship platform, of course we're going to say that! But truly, whether it's Dockwa or another platform, starting to collect and aggregate your bookings digitally will give you all the data you'll need to evaluate your property value. (We will say though, that marinas on Dockwa increased their marina value by $800,000 on average just by reducing their annual operating expenses and increasing their net operating income.)
Start reporting on benchmarks: We can't stress enough, the importance of coming to the table with your own data and comparables. This will change the tone of the sales process.
Look for quick-hit capital investments: You can elevate the value of your marina ahead of time through some short-term investments into your property and operations. In general when choosing these, you want to look for the low-hanging fruit. See the chart below for investments and their relative impact on your marina's value.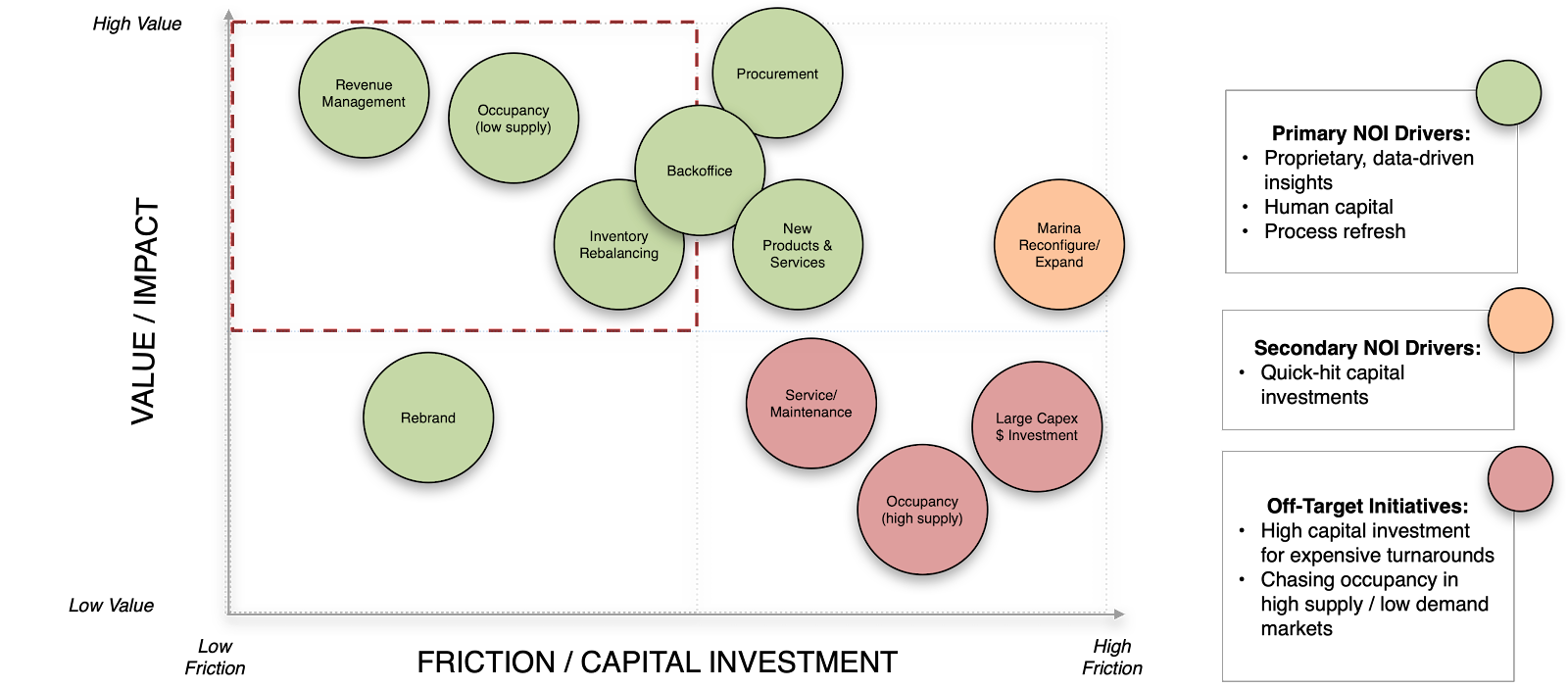 8-12 months before selling:
Set some criteria about what is important to you about this transaction. Talk with your co-owners or family about what factors would lead to you walking away from the table and get those down on paper.
Do some outreach to investors prior to ever listing your property for sale. We recommend talking with both institutional investors and local buyers to give you a range of options and that's going to take some time. This is also the period during which you'd want to line up any real estate lawyers, accountants or other supports you'll want during the sale.
Line up a communication plan to some of your key stakeholders- your boaters, your staff, and your local community. Create a conduit for their questions and factor them into your decision.
There is certainly more to a decision to sell than we can cover in this one post, but we wanted to give you a few concrete and important steps that will help you enter into the decision more prepared. Whether you're a Dockwa customer or not, we're happy to talk with you about where to begin when it comes to increasing the value of your marina heading into a future sale.